There have been many good books written this year, but I have only been able to read a handful of them; so I split my top ten into two lists. List one is the top books that I have read that were actually released this year. The second list is the top five books that were released before this year, but that I just worked through this year.
These lists are purely based on the limited amount of books that I was able to read through, but all are highly recommended even if they would not make others top ten lists for 2013.
TOP 5 BOOKS RELEASED IN 2013
5. Manhood Restored: How the Gospel Makes Men Whole by Eric Mason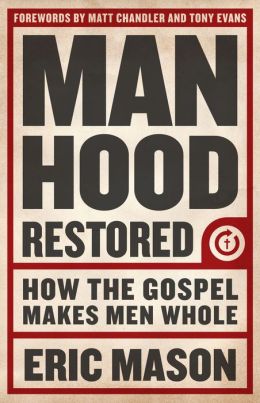 Many times men, including myself, are reluctant to read a book on being a man because usually the author attempts to motivate men with the guilt of their failures; but Mason does not do that. Rather his goal in the book is to facilitate an encounter with the ultimate God-man. Mason really presents a theology of manhood saturated with Scripture throughout the book. His writing does not come across as a way to beat men over the head, but in a pastoral way that deeply desires to see manhood restored to its fullest, which comes through Christ alone.Pastor Eric Mason combines theological depth with practical insights that puts men in step with a gospel-centered manhood that will enrich every facet of their lives.
4. The Insanity of God: A True Story of Faith Resurrected by Nik Ripken
The Insanity of God is the personal and lifelong journey of an ordinary couple from rural Kentucky who thought they were going on just your ordinary missionary pilgrimage, but discovered it would be anything but. After spending over six hard years doing relief work in Somalia, and experiencing life where it looked like God had turned away completely and He was clueless about the tragedies of life, the couple had a crisis of faith and left Africa asking God, "Does the gospel work anywhere when it is really a hard place? It sure didn't work in Somalia.
3. Prototype: What Happens When You Discover You Are More Like Jesus Thank You Think? by Jonathan Martin
In Prototype, Jonathan Martin creates a vivid understanding of what it means to be beloved by God. To completely trust, as Jesus did, that God loves you. To live life without fear, confident in your identity and purpose. To handle life's wounds as Jesus did, and to wake every day with a deep awareness of God's presence.

Martin reveals a startling truth at the heart of the gospel: Jesus is our prototype. And as we discover how the knowledge of being God's beloved changed everything for Jesus—how it set Him free to live out his purpose and love God, others, and the world—it will begin to do the same for us.
2. Creature of the Word: The Jesus-Centered Church by Matt Chandler, Eric Geiger, and Josh Patterson
Creature of the Word lays out this concept in full, first examining the rich, scripture-based beauty of a Jesus-centered church, then clearly providing practical steps toward forming a Jesus-centered church. Authors Matt Chandler, Eric Geiger, and Josh Patterson write what will become a center- ing discussion piece for those whose goal is to be part of a church that has its theology, culture, and practice completely saturated in the gospel.
1. Who Do You Think You Are? Finding Your True Identity in Christ by Mark Driscoll
Pastor and best-selling author Mark Driscoll believes false identity is at the heart of many struggles—and that you can overcome them by having your true identity in Christ. InWho Do You Think You Are?, Driscoll explores the question, "What does it mean to be 'in Christ'?" In the process he dissects the false-identity epidemic and, more important, provides the only solution—Jesus.
TOP 5 I'VE READ IN 2013
5. Letters from A Skeptic: A Son Wrestles with His Father's Questions About Christianity by Greg Boyd
Greg Boyd and his father, Ed, were on opposite sides of a great divide. Greg was a newfound Christian, while his father was a longtime agnostic. So Greg offered his father an invitation: Ed could write with any questions on Christianity, and his son would offer a response.
4. Holiness by J.C. Ryle
J.C. Ryle's
Holiness
has imparted a standing challenge to Christians for 130 years. In this new, slimmed-down series of excerpts from Ryle's masterwork, we aim to present his original message to a whole new generation. Holiness, Ryle argued, was not simply a matter of believing and feeling, but of
doing
.
We live in an increasingly post-Christian culture. More and more we find ourselves on the margins as less and less people have any intention of ever attending church. What used to work doesn't work anymore and we need to adapt.
Helping us to see the way forward, this book offers practical ideas and personal stories for engaging with Western society. Find out how to effectively reach people in the context of everyday life and take hold of the opportunity to develop missional communities focused on Jesus.
2. Paul's Missionary Methods: In His Time and Ours by Robert Plummer and John Mark Terry
This book examines Paul's missionary efforts in two parts. First Paul is examined in his first-century context: what was his environment, missions strategy and teaching on particular issues? The second part addresses the implications of Paul's example for missions today: is Paul's model still relevant, and if so, what would it look like in modern contexts? Experts in New Testament studies and missiology contribute fresh, key insights from their fields, analyzing Paul's missionary methods in his time and pointing the way forward in ours.
Today many pastors are struggling to adapt to a post-Christian culture without abandoning orthodox theology. How do we communicate the concepts of grace and substitutionary atonement in our globalized culture and context?In Center Church, Timothy Keller offers challenging insights and provocative questions based on over twenty years of ministry in New York City.
Although these are my top ten books of 2013, I recognize that there are many I have not had the opportunity to purchase or read. What books would you add to my list from your own reading this year?